Personal lesson by appointment only.
We will give you the best lesson to meet your individual ability.
You can watch other student's lessons also.

一対一でのお稽古です。
初歩の方から経験者の方まで、お一人お一人の
得手不得手に合わせて丁寧に指導しております。
完全予約制ですが、他の方のお稽古をご覧頂く
こともお勧めしております。



40 Min. ~ 45 Min.



      10,000 yen   
 (6 ~ 8 Lessons per Month are Available) 


3,000 yen



Lesson
Monday Morning-Night time
Tuesday Morning -Night time
Thursday Morning -Night time
Saturday Morning -Nigt time
In the avobe, on the monthly basis, each person makes a reservation for the number of times student decides.

Yakumo Keikoba (Dojo) . walk from the Toritsu daigaku St. (Toyoko-line )
We will keep your clothes for lesson such as Yukata or Kimono.
(*If you want to practice exept above days, please advise me your suitable days, time and place.)



Personal lesson by on-line by appointment only.
I recommend you to come for face-to-face lesson at least once a month.
Those who live abroad will consider.

30 Min.



      10,000 yen   
 (6 ~ 8 Lessons per Month are Available) 


3,000 yen






The lesson visitting your place. You can practice personaly or with friends or family together.
Reservation can be made more than 2 persons.
about 1 Hour.


    20,000 yen (minimum)


    6,000 yen (minimum)
      (Transportation fee is not included)

Mail to info@tsurujo.jp


                      Wednesday (3 times / month)
                       18:00-21:00
7,000 yen (month)
Personal lesson (30 min), In order of arrival
You can leave your Yukata or Kimono in the locker.

             Chuo-ku Nihonbashi Shakai-kyoiku Kaikan  
               3min. walk from Ningyo-cho St. (Metro)

             *This class is organized by "Nihonbashi-Jiutamai-no-Kai".
              Please contact to "Nihonbashi-Jiutamai-no-Kai". (gmonamu@gmail.com 090-8490-3874 )
                 
                 「日本橋地唄舞の会」Blog  http://nihonbashi-jiutamai.blogspot.jp/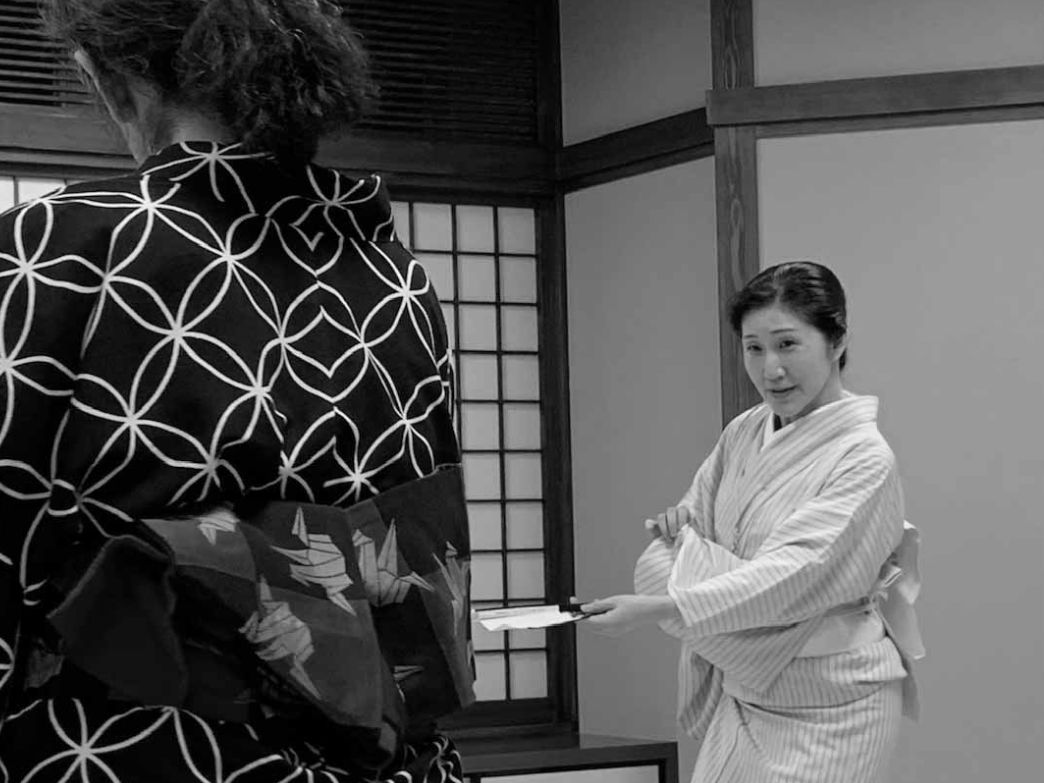 ・A pair of White Tabi (White Socks are available at first time)

・Yukata, Obi and Dressing Articles (Dressing will be helped)

 (We can rent you Yukata and Obi for free.)
・We have Ougi(Sensu) for rent for Beginners.

 We recommend to purchase Ougi for continuous lesson.

・We recommend to appear on the small performance

 to present your efforts. (aroud 15,000 yen / once per year)
*No additional expences is required.
*Admission charge is not required.



・Please pay at class room by cash.

・We will send you confirmation e-mail after we receive your application.
 If you are not receiving our e-mail, please check your spam folder or contact us.
 (nfo@tsurujo.jp or 050-3558-8335)

【The line of "Mai"】

Our master, Kanzaki Hidejo was a student of Kanzaki Hide who were famous in Tokyo, and also she was a student of Yamamura Taka who was Living National Treasure.

Master Hidejo taught me both the Kanzaki-style dance, which was popular in Tokyo, and the Shinmachi Yamamura style dance, which was handed down above in Kansai.

We practice both of these style dance carefully distinguiched.


私共の師、閑崎ひで女(かんざきひでじょ)は
東京で活躍した「神崎ひで」の弟子であり、
神崎流の源流である新町山村流の人間国宝「山村たか」先生にも師事していました。

したがって、師ひで女からは
東京で人気を博した「神崎流」の舞と
上方で伝承されてきた「新町山村流」の舞の
双方を伝授されております。

神崎の舞も、山村の舞も、それぞれ大切に区別してお稽古しております。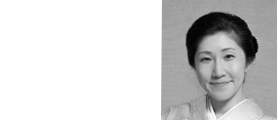 1966年   生まれ
1969年   日本舞踊の手解きを受ける
1979年   茶道裏千家入門
1993年   茶道裏千家真之行台子許状(助講師)取得
1993年より 閑崎ひで女に師事
1999年   名取を許される
2001年   株式会社東芝を退職し、舞に専念
2002年   早稲田大学大学院演劇映像専修(舞踊研究)
        修士課程中退
2002年より 師の体調不良により大伴清女に師事
        地唄舞研究会「花の実会」会員
2011年より 桐崎鶴女として独立 桐崎流主宰となる
        桐崎鶴女 舞の会開催
2013年より 「桐崎地唄舞稽古会」主宰
2014年より コレド室町にて「鑑賞・体験教室」主催
2015年   『世界のダンスⅡ』(不昧堂出版刊)にて
        「東京の地唄舞」を執筆
2015年より 「日本橋地唄舞の会」講師
2017年   アーツカウンシル東京の事業として、
        リトアニア共和国にて公演及び
        ワークショップ開催

・国立劇場、紀尾井ホールほか舞踊公演出演



1969      Entered Japanese Traditional Dance School

1979      Entered Japanese Tea Ceremony School (Ura-Senke)

1993      Allowed 3rd Degree Instructor of Tea Ceremony (Ura-Senke)

1993-      Became Disciple of Kanzaki Hidejo, Maestro

of "Mai", Japanese Traditional Dance

1999       Allowed Master Title "Natori" of "Mai"

2001      Left Toshiba Corp. and dedicated to "Mai"

2000-2002   Humanity and Social Sciences of Waseda University (Study of Dance,"Mai")

2002       Graduate School of Waseda University (Study of Dance,"Mai")

(Dropout)

2002-      Study under Elder Disciple of "Mai", Ootomo Seijo

         Member of Self Study and Lesson Group of "Mai", Hananomi-kai

2005-6     Instructer of "Mai School for Children" in Minato-ku Jidokan in Tokyo

2011      Established Kirizaki School of "Mai"

        Had Recitals "Kirizaki Tsurujo Mai No Kai"

2013-     Organize Tsurujo's Jiuta-mai Lesson Dojo

2014-     Host Trial Lesson of Zashikimai and Jiuta-sangen

2015     Wrote about "Jiutamai in Tokyo" in the book "DANCES OVER THE WORLD II"

2015-     Teach at "Nihonbashi JIutamai no Kai"

2017 Performances and workshops held in the Republic of Lithuania as a project of Arts Council Tokyo

 ・Appeared Many Stages in National Theater, Kioi Theater and others


Please contact us.



Mail  info@tsurujo.jp