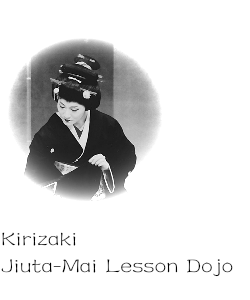 "MAI" as JIUTA-MAI is performed alone gently on the Tatami-room of high society by wellborn ladies and/or Geisha. Its movement is sensitive, elegant, performed by small movement, captivating and graceful.
"MAI" will bring to the world how to prepare mind-tuned body as same as "Zen" and "Budo" as a principle. Also "Mai" will reflect your present mental image through simple bond between mind and body.
IN MY LESSON we will learn "Mai technique" and "Discipline sensibility" basically but also to be free from all distracting thoughts as "Train mind" consciously.
I AM CAPTURING Lesson Dojo to skill up own ability by trial and error. "Mai" has a lot of intelligent from Edo period how to feel beauty not only through eyes but from atmosphere and how to use own body by natural way.
AS BEGINNING we will learn the best way to perform the body without connection to age by sharpening sensibility, feeling bone, body core, "Tanden"(a point in the lower abdomen) and flow of "Ki" energy.
EXPRESS various emotion and mind from sensitive movement transmitted from core to tips, i.e. breast to eyes, from breast to fingertip, from waist to tiptoe and etc..
ADDITONALLY, we could create Japanese traditional spiritual world, where the scene not visible can be seen and the sound that is not audible can be heard, while feeling depth and density of space and time.
We will proceed the lesson with above contents.